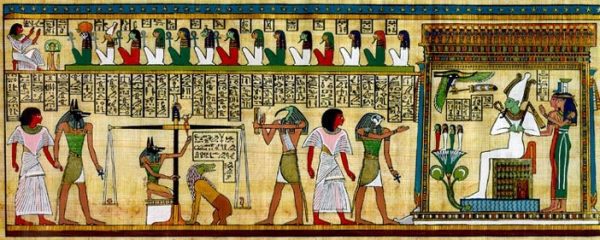 Egypt The Millennium Journey
Welcome to…. 

Egypt The Millennium Journey of Self
Hello, I am Jean Sheehan from Millennium Education and I would like to invite you to join me on your own journey of discovery through Egypt in October 2018, 'The Millennium Journey'.
Since childhood I have been drawn to share the ancient wisdom of Egypt, including healing, toning and the art of oneness. In my teenage years I had visions of what ancient Egypt was offereing in regards to the evolutionary process. I have always understood the codes and sacred geometry of the ancients of Egypt to allow ourself to discover who we are and our gifts. It is with such sacredness and deep heartfelt passion that I finally share this wisdom with you. I was guided that these journies must commence in 2018 and continue but not before. Ancient Egypt wisdom is linked to Atalntis. Lemuria and Pleides when there were specific times of evolution.
So why 2018?
This information was what I 'brought forth many years ago and again recently and was told to share now. I hope you enjoy as these writings are kept in my very private journals which i don't normally share.
As we moved in to July 2015 we enter the energy of ancient Egypt and the wisdom and down falls. With that comes the Millennium Grid® numbers 2 – 0 – 1 – 6. The 2 – is awaken or judge and the downfall then was judge, 0 – zero point of absolute love, 1 – new beginnings and belief in (1) God and oneness but what happened then was separation and belief in self as God and better than  and the 6 is the  expression of self but this is more in ' i am right and you are wrong'. It also includes '16' illusions that others are better or less than.
This energy is playing trauma on many mentally and emotionally at present with many feeling the energies and feeling alone and separate. It is an intense energy and requires and commands you to stay in your heart and connected to the absolute love. Many feel like they are going crazy and anxious. Many will search for guidance, counselling and support through these intense. Many will experience paranoia and 'depression'. In this 2018 + energies Children will feel it and may react in poor behavior, possessive and angry … it will pass and best to support them with crystals and essences. Although this may feel/sound like 'doom and gloom' it is exciting time of magic and oneness and the break through of all OLD stuff where we felt separate. Egypt was about creating one world and one God and we are on the way and journey now. Allowing old superstitions and paranoia go. There will be much death of all sorts happening on all levels which allows for the new. Ancient guides like Anubis, Osiris and Horus energies will, be felt and seen by many on a positive level and may call these signs in. All is perfect just a remembering from Atlantis, Lemuria and Golden 1 that now is the time for oneness and absolute love again. Thank you for allowing me to share.
To that end The Millennium Journey of Self is an experience of a lifetime just for you to enjoy.
Since ancient times, Egypt has held mystery and magic for millions of people all over the world.   When you come on The Millennium Journey of Self tour of Egypt, you will discover the secrets and energy held within the ancient temples and tombs for yourself.   Once you visit Egypt, the energy of Ancient Egypt reaches out and whispers to your soul awakening all the power that has been sleeping within you.
Come and join us on The Millennium Journey of Self Tour of Egypt and spend 14 fabulous days exploring Egypt and your inner self.   Your Egyptologists and Guides are well versed in not only the history and archaeology of Egypt, but also the magic and mystery that Egypt is famous for.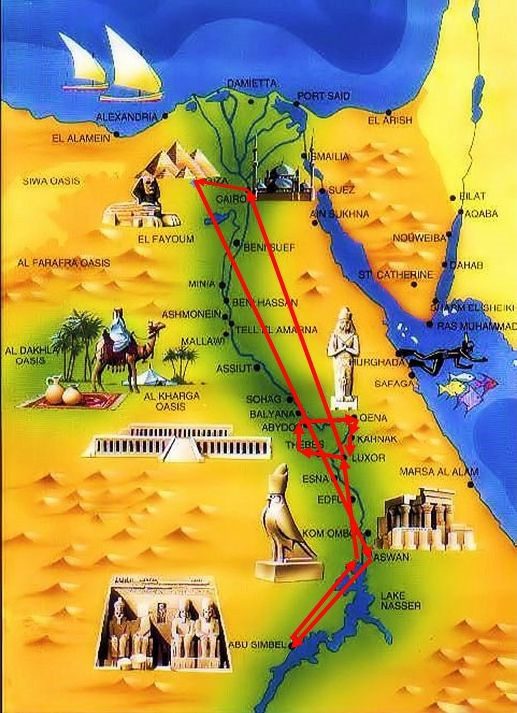 You will be pampered in 5 star luxury all the way and will discover Ancient Egypt with private access visits to many of the sites we visit.  We even visit some sites that tourists don't normally get to see. You will discover the real Egypt of today by doing things along your journey that many people who visit Egypt never experience.   Once you land in Egypt, just about everything is included in your tour price and you will be well taken care of.
Myths and legends will be explored and, more importantly, experienced!  Discover ancient and miraculous powers to:
heal the body

clear away emotional baggage

enlighten your mind

open yourself to exploring new ways of thinking

increase your creativity

discover how to awaken your soul to knowing its true destiny in life

and so much more.

All this while you are enjoying the holiday of a lifetime!
You will be having so much fun that you won't even notice the changes that are
occurring within you!
As you journey through the ancient sites you will be invited to join in meditations and other ancient rituals all designed to rejuvenate your mind, body and spirit.  The choice to take part in these of course will be yours to make.   If you choose not to take part, there is plenty to see and do at the sites while the group is otherwise engaged and one of our guides will take care of you.   You will never run out of photo and video opportunities on this tour.  Actually, if you are a keen photographer you can guarantee some amazing photos as we visit some of the sites at sunrise and sunset.  Plus the sunsets on the Nile River have to been seen to be believed!!
One of the highlights of this tour includes an overnight visit to the beautiful temples at Abu Simbel.  We will be staying in a gorgeous rustic all suite hotel right on the lake.  Take time out to watch the sunset over the lake from the balcony of your own private villa then take an optional tour to the sound and light show at Abu Simbel which is a very special experience.   The following morning we will be up before sunrise to explore Abu Simbel and to watch the sunrise on this beautiful temple complex.   We will also be visiting the famous Temple of Isis on the Island of Philae at Aswan before Dawn and joining together for a special meditation in the Great Pyramid of Giza after sunset.
We look forward to travelling with you through Egypt in October 2018."

Jean Sheehan
Jean Sheehan is known as 'the walking talking MRI' as she has the ability to see within the human body and know what is happening to a personal on all levels. She integrated her Nursing, pathology and autopsy knowledge create the Millennium Modality® – Medical Intuition.
Since birth has always had the memory of the ancient healing techniques and Mystery Schools. Her visions and connections access consciousness from Atlanstis, Lemuria, Pleidea, anceitnte Egypt and dimensional work. She has full understanding of sacred geometry and laws of creation and attraction. She has the ability to recall any life time that was inline with the evolution of human consciousness and healing. She does not acll herself psychic and shares she is tapping in to innate wisdom of the absolute – the total reality of all consciousness.
Her mission is to assist those awaken at this time to access their ancient  wisdom and shine their brilliance so that they can be empowered on all levels.
Her unique gift and passion has been to integrate this wisdom and power in to main stream educational and health systems and she has achieved this successfully and is often asked to present at QLD University, Corportaions and schools.
It is with great heart passion that Jean Sheehan shares this knowledge of the Mystery schools of ancient Egypt to you on this special occasion. She knows you will have a an awaken to your own ancient gifts.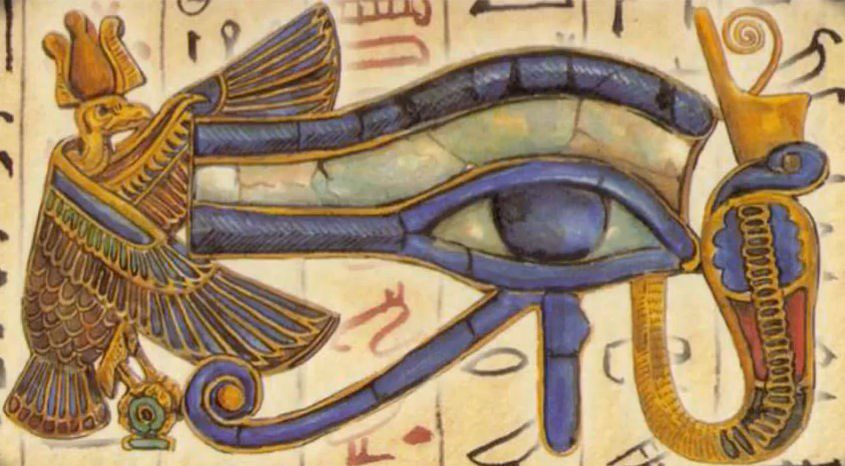 9th – 22nd October 2018
Led By: Jean Sheehan
Visiting Old Cairo, the Egyptian Museum, Giza Plateau and The Pyramids, The Sphinx, Karnak Temple, Luxor Temple, Dendera, Abydos, Valley of the Kings, Hatshepsut's Temple, Medinet Habu Temple Complex, Edfu Temple, Kom Ombo Temple, Isis Temple Philea, Aswan, Abu Simbel, Sakkara, and more many surprises along the way.
Plus a Fabulous Luxury Nile Cruise
USD$9,195 (Twin Share)
(International Airfares Not Included)
"Egypt is whispering to your soul and waiting to welcome you back home."
To Reserve Your Place
Contact – Jean Sheehan

Australia: +61 7 5641 4009
Australia: +61 0414 758 360
USA: +1 617 849 8492
Emai: info@millenniumeducation.com
Official Tour Websites: www.millenniumeducation.com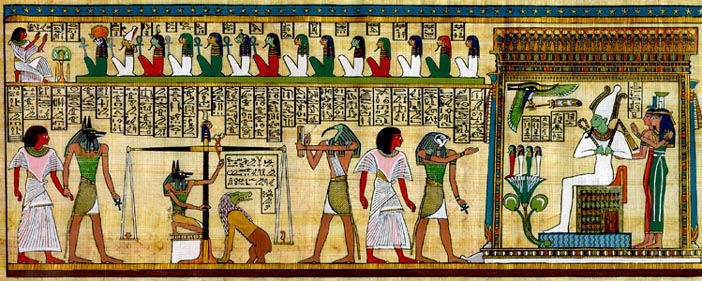 Cairo
Mena House Giza
The Mena House is a 5 star hotel located right next door to the pyramids.  The Hotel is a national treasure and dates back to the time of the Khedive when it was his hunting palace.   The Mena House has played host to many world political events and famous people including among others Winston Churchill, General Montgomery and Princess Diana.
The Mena House has an Australian connection in that it served as a hospital for Australian troops during the Second World War.  This hotel is a destination in itself and not to be missed.
The royal history is reflected in the lush interiors and exquisite antiques.  The hotel is set in 40 acres of beautiful gardens and has a
beautiful heated resort style pool.  The rooms are spacious and many have a view of the pyramids.  Each room has an electronic security safe, international and local phone, mini bar, air conditioning, very comfortable beds and well appointed bathrooms.  The hotel offers 24 hour room service and internet access.  The views from your balcony at sunrise and sunset are memorable.  The staff at the hotel are extremely friendly and go out of their way to make your stay as pleasurable as possible.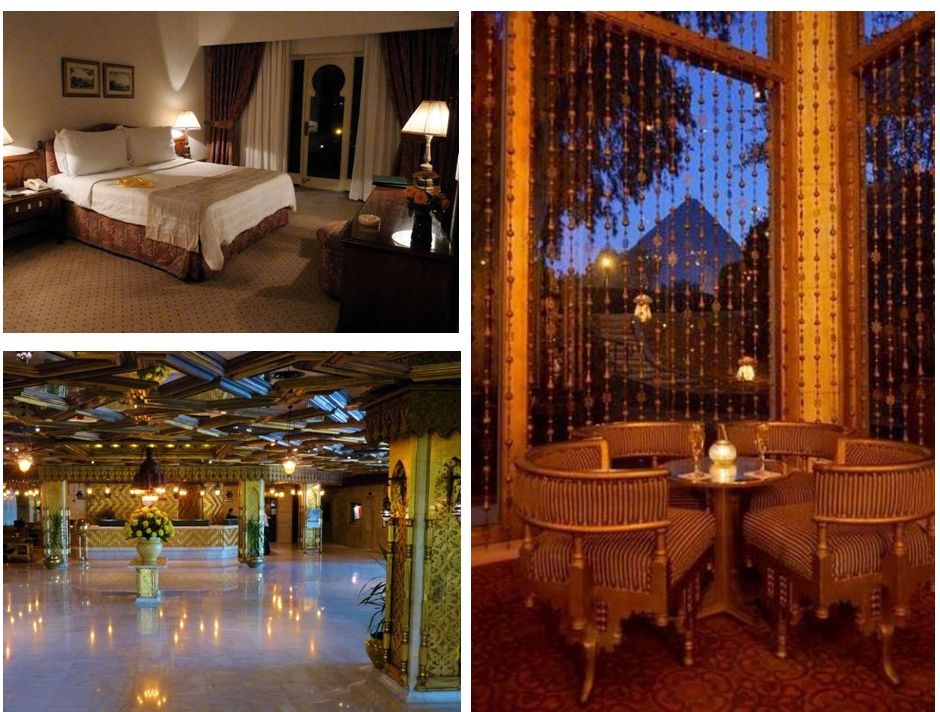 There are a number of restaurants to choose from serving a range of delicious Western and Middle Eastern food.  At the end of a long day of exploring you can chill out with a massage in the Day Spa or workout in the gym.
Luxor
Sonesta St George Hotel
The Sonesta St George Hotel is a 5 star hotel located on the banks of the Nile River close to the Luxor Temple and shopping.  It is a luxury contemporary style hotel with large rooms many of which have views of the beautiful Nile River.  All have in-room electronic security safes, aircon, international and local phones, mini bar, internet access and well appointed bathrooms.  The rooms are spacious with very comfortable beds and many have views of the Nile River.
There are a number of restaurants to choose from, a shopping arcade, beauty salon and a fantastic day spa.  The huge swimming pool is located right on the banks of the Nile so a good place to unwind between day tripping around the Luxor Region.
Seti 1 Hotel Abu Simbel
The Seti 1 Hotel is a rustic all villa hotel on the shores of Lake Nasser only a stone's throw from the famous Ramses 11 Temples at Abu Simbel.  The hotel has been built using local stone and is decorated in Nubian style featuring domes and flamboyant yet restful colours in the villas.
There are 6 suites and 136 villas spread over 2 levels.  Sit on your bougainvillea covered balcony and watch the sun set slowly into the lake.   The gardens are magnificent filled with lush tropical vegetation and the huge resort style pool is the perfect place to relax with friends.
The Villas are spacious and comfortable and have a min bar, in room electronic security safe, and airconditioning.
There are a number of restaurants, bars and cafes to choose from serving a range of both Western and Egyptian cuisine.
If you need to stay connected to the world internet access is also available in the well equipped business and conference centre.
Aswan – Movenpick Resort
This luxury 5 star hotel is on Elephantine Island in the middle of the Nile River and is surrounded with lush gardens.  All of the 230 rooms and suites are fully equipped with soundproof windows and individually adjustable air-conditioning and heating. In addition to a large desk and WiFi connection, each room also has a HD LCD television with both national and international satellite channels. There is a choice of twin beds or Queen and King Bed Rooms.  Tea and coffee making facilities are included.
There are a variety of restaurants and bars to choose from and The Orangrie restaurant offers 360 degree views over the Nile River and serves international and local cuisine.  There is a spacious swimming pool set in the beautiful gardens.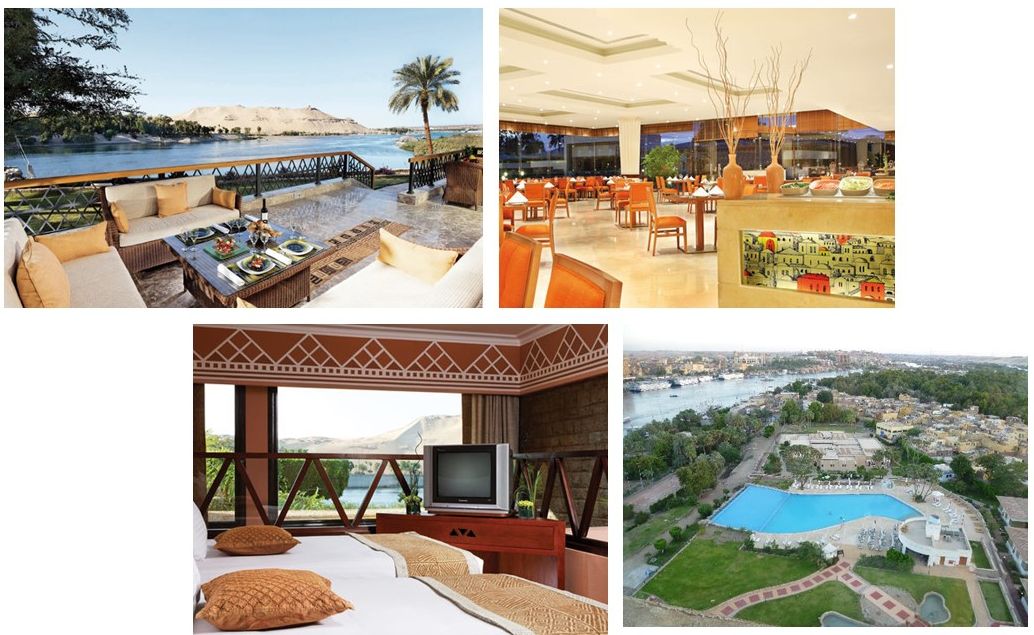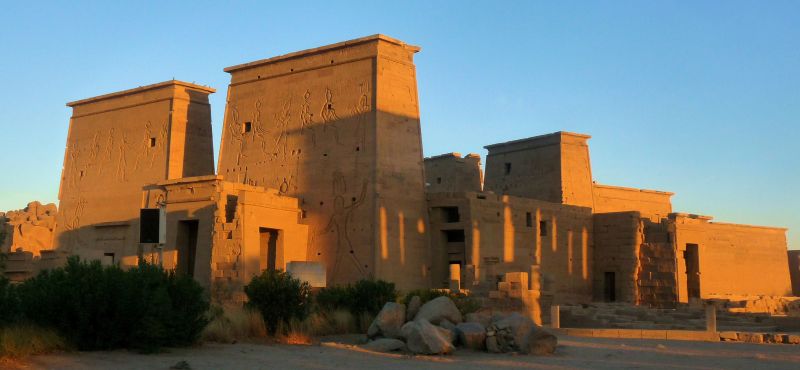 Jean Sheehan Birthday Tour
9th – 22nd October 2018

All activities listed below will happen, but maybe not necessarily in the order stated!
Be prepared – spontaneous changes are part of the fun and surprise activities are guaranteed!

Day 1, Tueday 9th October 2018 Arrive Cairo/Welcome Dinner
Arrive at Cairo Airport where you will be met by your Quest Travel Tour Managers. They will assist you through customs before transferring you to your luxury accommodations at the luxury Mena House Hotel in Giza.

This beautiful hotel is right next door to the Pyramids which is a great introduction to your journey. From the moment you get off the plane you will have the feeling of beginning to relax. You are on Egypt Time now and ahead of you is 17 days of wonderment, adventure, excitement, laughter, spiritual upliftment and rejuvenation. We'll get together this evening before enjoying our first dinner together.             (Dinner)
Day 2, Wednesday, 10th October 2018 Giza Plateau/Sphinx / Great Pyramid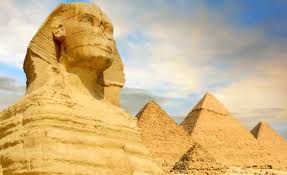 We begin our day very early with a special private and exclusive visit to the Giza Plateau, when the area is closed to the public so it will be just our group. Listen closely as you awaken before Sunrise.   As you reluctantly come alive, you will hear the incredible sounds of the entire city being called to prayer. Listen to the cacophony of sound– Feel the energy of the dawn spirits. We are off to discover some of the most awesome Wonders of the World to touch them and to feel them – the Great Sphinx, the Pyramids and the Valley Temple of Chephren on the Giza Plateau.
We study them and pay particular attention to the Sphinx. There is nothing more awe inspiring than to stand between the mighty paws of the Sphinx and gaze up at its wondrous face as the first rays of sunshine break over the horizon. We will greet the Sun with an ancient ritual just before dawn. Our guide, who is an encyclopaedia of Egyptology, will give us detailed examinations of various controversial theories surrounding these amazing structures.  After an invigorating Sunrise, we are back to our hotel for breakfast at the Mena House.
This afternoon, we have a special private visit in the Great Pyramid where we will explore the chambers before a guided meditation in the Kings Chamber. We will be tapping into the energy and harmonic resonances of this mighty structure. Here, we unite our life story with the story of those who have come before us and those who will come after as we begin our journey to becoming more aware of our powerful inner selves.     (Breakfast, Lunch)
Day 3, –Thursday, 11th October 2018 Cairo Museum and Khan Il Khalili Bazaar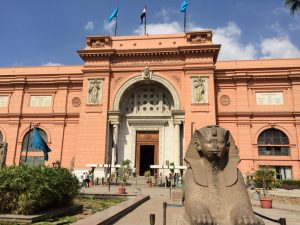 Today we visit the Cairo Museum in downtown Cairo. Our Egyptologist will guide us through this famous museum with a collection of over 200,000 ancient Egyptian artefacts, dating back to 4,000 BC. Visiting the museum is an opportunity to see the statues and artefacts that originally were located in the temples, this paints a fuller picture when you go the temples, like seeing the original furniture designed for a house in ancient Egypt. There you will also experience first-hand the different periods of ancient Egypt and the individual artistic and architectural styles of each period.
One of the many highlights of this museum is the visit to the treasures of Tut-Ankh-Amun. Stand before the breathtakingly beautiful gold death mask and marvel at the treasures that travelled with this boy king to the afterlife.
There will be time to explore the museum on your own and to feel the sometimes eerie presence of energies from the past that still linger within the statues.
After our visit to the Museum, we will take some time out to visit the local shopping area for some retail therapy Egyptian style and we will also visit the famous Khan el Khalili Markets in Downtown Cairo After lunch in a beautiful restaurant downtown we will take a walking tour of old Cairo visiting the Alley of the Tent Makets as well as many other iconic Coptic and Islamic sites. (Breakfast, Lunch)
Day 4, – Friday, 12th October 2018 – Luxor/ Karnak Temple / Luxor Temple
This morning we check out of the Mena House and go to the Cairo airport to fly to Luxor where we check into Sonesta St George Hotel.   This afternoon we tour Karnak, one of the largest temple complexes in the world. Karnak recalls us to the powerful acts of creation, of beginning anew, and of building on the divine plan. It has been home for more than 3,500 years to the living statue of the lioness goddess, Sekhmet. We will visit her temple and will use the powerful energy of Sekhmet to further awaken the spirit within.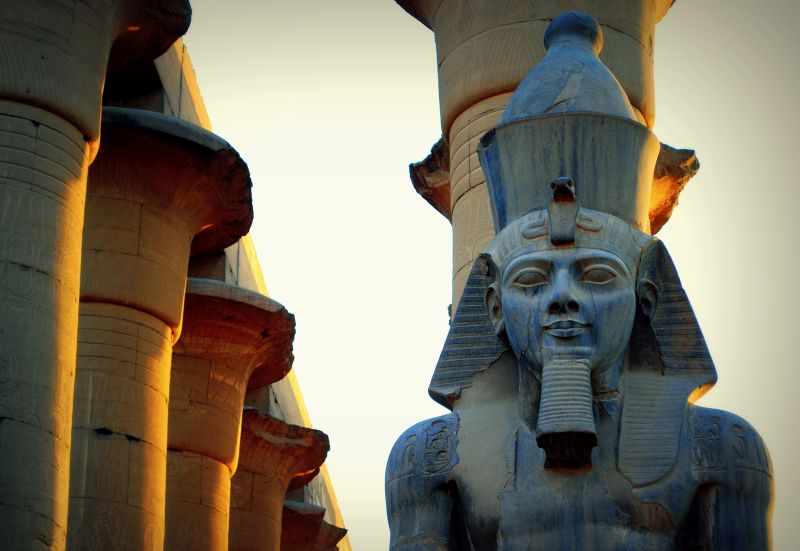 Tonight we visit the Luxor Temple. This temple really comes to life under lights at night. Feel the powerful energy within you as you wander through the ancient hallways touching the stones as you go. (Breakfast, Dinner)
Day 5, – Saturday, 13th October 2018 – Abydos and Dendera
This morning very early, we travel by road to the exquisite Dendera Temple dedicated to Hathor, the goddess of abundance, love and joy. The temple is built with a zodiacal ceiling that recalls the origins of Egypt.   There is so much to see and experience at this temple.
This afternoon we continue north to the temple at Abydos, dedicated to Osiris, and housing the nine great beings (the Ennead). This temple rests next to and above the most ancient Osirion, one of the premier power places on the planet where you will find the original flower of life carvings.  It includes a more recent temple built by Seti I, which contains the most beautiful Bas reliefs of any temple in Egypt.   (Breakfast, Lunch and Dinner)
Day 6, – Sunday, 14th  October 2018 – Hatshepsut Temple / Valley of the Kings /West Bank Join Nile Cruise
This morning we make a sunrise pilgrimage to Deir el Bahari, the funerary temple of the female pharaoh Hatshepsut. We also visit the Necropolis of Thebes (The Valley of the Kings) on the West Bank of the Nile. The West Bank holds the tombs of the pharaohs that are inscribed with sacred transformative texts, including the books of knowing light and dark, the book of what is in the underworld, the book of caverns, and naming and taming the hours of the night. We will also see the mortuary temple of Ramses III at Medinet Habu and the Colossi of Memnon. Check into your Nile River Cruise Boat.
At Noon sail to Edfu passing through Esna Locke.  (Breakfast, Lunch and Dinner)
Day 7, – Monday, 15th October 2018 – Edfu Temple of Horus / Kom Ombo / Aswan
We take a carriage ride to the Temple of Horus, one of the most beautifully preserved in Egypt which is built on the foundations of an older temple dedicated to Set. Here, we follow the pattern of the hero's quest as we learn how Horus and his followers (the Shemsu Hor) conquered chaos, and we see the sacred marriage of the king and queen as the embodiment of Horus and the goddess Hathor. Look forward to a very powerful meditation in this temple. The side chambers of the temple show the complexity of the rites that include a healing chamber, a perfumery, and singer's rooms. One chamber, called the House of Life, stored all of the sacred texts used in seasonal and daily rituals.   On one wall of the temple Thoth tells the story of Orisis and Isis.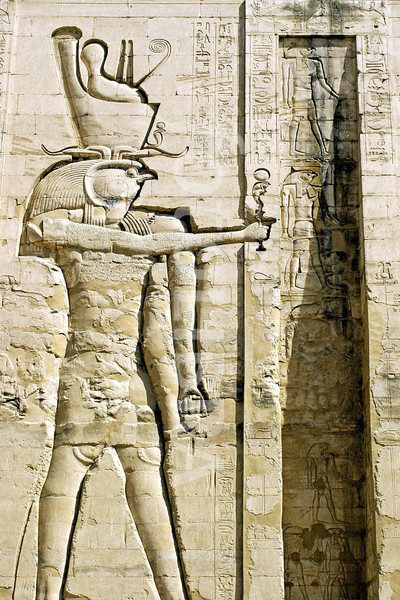 Relax on deck as we sail to Kom Ombo. There, we visit the only dual temple in Egypt. This dramatic temple poised between the edge of the river and the encroaching desert sand was dedicated to two gods – Sobek the crocodile god of strength, fortitude, fertility and rebirth, and Horus the hawk-headed son of Isis and Osiris.  Sail to Aswan City which is considered to be everyone's favourite Egyptian city. Beautiful and peaceful, it is called the "Pearl of Egypt".   We will visit the Nubian markets.   (Breakfast, Lunch Dinner)
Day 8, – Tuesday, 16th October 2018 – Aswan / Philae Temple / Isis / Abu Simbel
We rise very early this morning and take a short coach ride to the lakeshore and transfer to a motorboat. We travel on the Nile River to the island of Philae where we will visit the Philae Temple privately. This island represents a fusion of three great civilizations – Egyptian, Greek and Roman. The presence of Isis is felt very strongly in the inner sanctum, the Holy of Holies of her temple. We'll take ample time here to experience the healing energy of Isis and her lovely island complex.
After Breakfast we drive to Abu Simbel and check into the Seti I Hotel.   (Breakfast, Lunch, Dinner)
Day 9, – Wednesday, 17th October 2018 – Abu Simbel/Aswan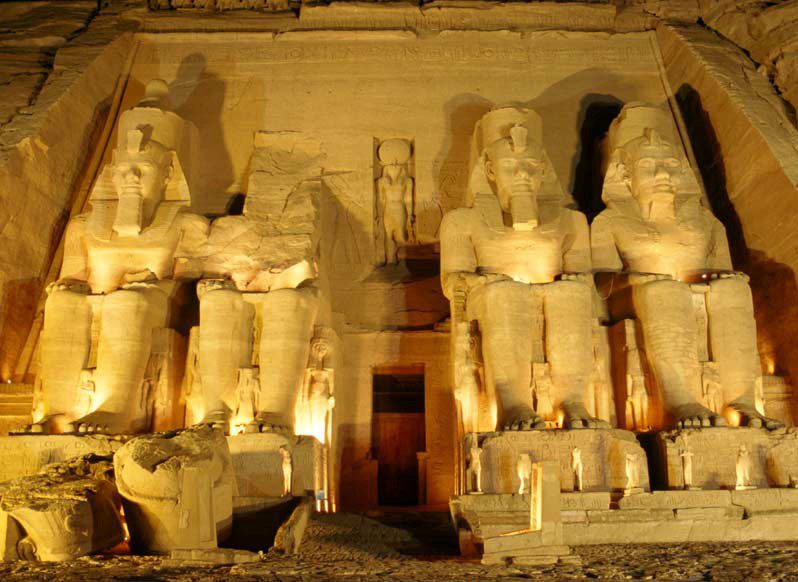 We are up before the Sun this morning to explore the temples at Abu Simbel.  These magnificent temples are both an ancient and a modern engineering marvel. The Abu Simbel temples are the symbols of an international salvage campaign in the 1960s to save these monuments from the rising waters of the mighty Aswan Dam. These temples are truly magnificent and a very special moment is quietly watching the Sun rise on the lake and seeing the sunlight on the Temples.  See the Temple for Ramses II and the beautiful temple for his beloved wife Nefertari.   Our Egyptologist guide will assist us to see the full beauty of these temples through translating the images on the walls and giving us the history of the temples.
After breakfast we return to Aswan.   Aswan city is considered to be everyone's favourite Egyptian city because it is beautiful and peaceful.  It is called the "Pearl of Egypt". (Breakfast, Dinner)
Day 10, – Thursday, 18th October 2018 – Aswan to Cairo
After breakfast we check out of our hotel and fly back to Cairo checking into the Mena House Hotel.  (Breakfast, Dinner)
Day 11,– Friday, 19th October 2018  – Old Cairo and Manial Palace and Gardens
This afternoon we will be venture back downtown to explore the newly renovated Manial Palace.  The Manial Palace was built by Prince Mohammed Ali Tewfik (1875—1955), the uncle of King Farouk, between 1899 and 1929. He had it designed in a style integrating European Art Nouveau and Rococo with many traditional Islamic architecture styles including Ottoman, Moorish, Persian, creating inspired combinations in spatial design, architectural and interior decorations, and sumptuous materials. It housed his extensive art, furniture, clothing, silver, objects d'art collections, and medieval manuscripts dating back to the Middle Ages.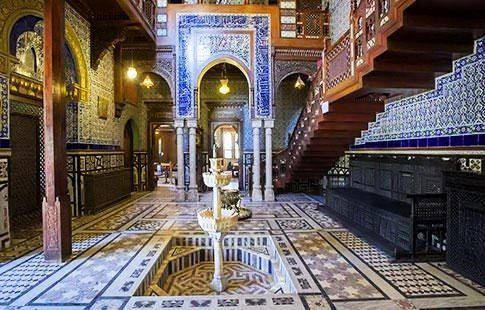 The Palace, furnishings, and Prince's collections were given to the Egyptian Supreme Council of Antiquities in 1955. The Manial Palace and estate are a public art and history museum, with historical gardens, and forested nature park. The Palace has been undergoing restoration for the last 10 years at a cost of approx 61 Million Egyptian Pounds.   As well as the Palace, the gardens and fountains have also been restored.  (Breakfast, Lunch)

Day 12, – Saturday, 20th October 2018 – Alexandria
We are up very early this morning to drive to Alexandria which is about 2.5 hours North of Cairo.  In Alexandria you will visit the Greco Roman ruins including the catacombs of Kom El Shuqafa and Pompey's Pillar.  We will visit the Royal Jewellery Museum and the Montazah Palace and Gardens.  We will have lunch at a great seafood restaurant overlooking the harbour.  If time permits we may be able to visit the Library of Alexandria.  We will return to Cairo late this afternoon. (Breakfast, Lunch)
Day 13 – Sunday 21st October 2018 – Sakkara / Serapeum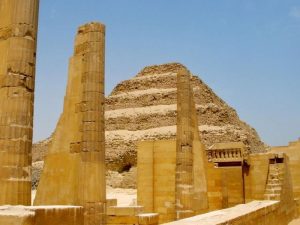 We are up early again this morning to travel to Sakkara to view the Old Kingdom pyramids on the west bank near ancient Memphis. About, 2630 B.C. Imhotep, architect to King Djoser (Dynasty III), masterminded the Step Pyramid at Sakkara. The world's oldest freestanding stone structure, this pyramid consists of six tiers atop a mastaba, or low, oblong tomb, faced with cut stone.  We will explore the Sakkara complex including a visit to the awesome newly opened Serapeum that houses the massive granite sarcophagus of the Appis Bulls.  Enjoy lunch at a typical Egyptian restaurant in the countryside.
On the way back to Cairo we visit one of the carpet schools where Egyptian children make handmade carpets out of their own imagination.
Tonight we will have a special farewell dinner where we can all share our many experiences of being in Egypt. (Breakfast, Lunch, and Dinner)
Day 14, – Monday, 22nd  October 2018 – Cairo / Departure Home
Following breakfast check out of your hotel before being transferred to the Cairo International Airport for your journey home.     (Breakfast)

Terms and Conditions

Your Tour Price Includes:

•    Meet and assist at airport and transfers to Hotel
•    All hotels taxes, services charges
•    Daily buffet breakfast
•    Full board on Nile cruise, breakfast, Lunch, Dinner
•    All meals mentioned in above itinerary
•    Private Spiritual Egyptologist and Guide
•    All entrance fees for all visits mentioned above
•    Domestic flights within Egypt Cairo/Aswan + Cairo/Luxor
•    Private visits to sites mentioned above, with special emphasis on the Sphinx, The Giza Plateau and the King's Chamber in the Great Pyramid, Philae Temple, Temple of Sekhmet, as well as a few surprises along the way
•    Welcome and Farewell dinners
What's Excluded in Your Tour Price?

•    International air tickets to Egypt
•    Entry visa in Egypt US$25 (As at June 2015 we will advise if this price changes)
•    Travel & Health insurance
•    All beverages and items of a personal nature, such as laundry, phone calls, internet, etc
•    Tipping – an amount of approx USD$350 will be collected at the beginning of the tour
•    Meals not indicated on the itinerary
•    NB: If any increase in entrance fees for the included sites takes place, the cost will by necessity be passed on to you as prices are controlled by the Egyptian Government, in which case you will be informed accordingly of the difference in cost.
Price: US$9,195
Single Supplement – USD$
Deposit:  USD$3,000
(due at time of Booking) (non refundable)
Final payment 24th June 2018 USD $6,195.00
Terms of Payment:
Payments can be made by bank transfers.  You must supply proof of sufficient travel insurance to cover the cost of the trip in case of cancellation or medical emergency.
Travel Insurance:
You will require independent Travel Insurance. Be sure that you obtain travel Insurance that includes a clause for trip cancellation to ensure that you are covered for all scenarios.   In order for the group to arrive in Cairo at the same time I will be advising you of suggested flights closer to the departure date for the tour.  Please do not pay for your airline tickets until I have advised you to do so.
Tipping:
We take care of most of the tipping needs in Egypt, including the temple guards, bell captains, bus drivers, and many others.  Please allow approx USD$350 for all tips which will be collected prior to the beginning of the tour and will be distributed accordingly on your behalf.
Cancellation Policy:
Part of your deposit or registration fee may be refundable if you must cancel. Considerable administrative work is initiated when you register, including air and travel bookings within Egypt, accommodation and communication, planning and coordination with our tour company. The amount of your refund will be based on the date we receive notice of your cancellation.
If cancelled 60 days prior to arrival date USD$1,500 will be withheld for administration fees
If cancelled within 45 days prior to arrival USD$2,000 will be withheld.
If cancel within 44 days prior to arrival no refund will be made
Pre Arrival and Post Tour Nights at Mena House Hotel if Required:
Double room: USD$300 – including tax, services charges and buffet breakfast
Single room:  USD$250 – including tax, services charges and buffet breakfast
If you would like to stay in a Pyramid view room while at the Mena House Hotel an additional USD$70 per room per night will be charged.
Airport Transfers:
Airport transfers if requested for pre arrival or post departure outside the arrival or departure of the main group: USD$45 per person one-way airport to hotel or vice versa
Visa Requirements:
For holders of Australian, British and US Passports, Visas can be obtained at the Cairo Airport upon arrival if travelling with the group.  If you hold another Passport, please check with us for Visa requirements.  Visa arrangements are currently under review by the Egyptian Government and we will advise when we have the final details.
Currency can also be exchanged upon arrival at Cairo Airport where you get you entry Visa.
Currency in Egypt is the Egyptian Pound
Cost Increases:
Tour costs are printed well in advance of our actual travel dates. In exceptional circumstances, the cost of your international trip may be subject to increases which we cannot absorb, due to reasons such as currency fluctuations, fuel costs, tariffs, dues, taxes and fees overseas, the costs of services overseas, additions/adjustments to the tour program, or developments beyond our control. We regret this situation and we do everything possible to avoid surcharges, but sometimes it is unavoidable. We reserve the right to adjust prices before the tour as these changes are made known to us. An increase in tour prices shall not be grounds for refund of all or any part of payments made towards a tour, and completing the tour registration form constitutes your acceptance of this provision.
Cancelled Trips:
Jean Sheehan, Millenium Education, Absolute Empowerment, The Coaching Muse and SpiritualEgyptTours.com reserves the right to cancel any trip due to inadequate sign-ups that make the trip economically infeasible to operate. While we make every effort to fill each trip to the point of maximum economy for everyone and do everything possible to avoid cancelling trips with low sign-up; we can adjust the price of our journeys in order to guarantee departure with a smaller number of participants. The price adjustments imposed by a smaller number of participants are kept as low as possible. If trip cancellation becomes necessary, we will transfer you to another trip, offer you future trip credit, or refund your payment in full. The refund of all payments received shall release Jean Sheehan, Millenium Education, Absolute Empowerement, The Coaching Muse and SpiritualEgyptTours.com and they are deemed to be exempt from any further liability. Jean Sheehan, Millenium Education, Absolute Empowerment, The Coaching Muse and SpiritualEgyptTours.com are not responsible for any additional expenses incurred by members in preparing for the trip, such as non-refundable advance purchase airline tickets, visa and passport fees, equipment or medical costs. In circumstances where trip cancellations resulting from the inability for trip to depart as scheduled, such as cancellations due to acts of war and/or terrorism, war, God or nature or low numbers resulting in the tour not being viable takes place, Jean Sheehan, Millenium Education, Absolute Empowerment, The Coaching Muse and SpiritualEgyptTours.com are not liable for restitution.
Responsibility:
Jean Sheehan, Millenium Education, Absolute Empowerment, The Coaching Muse and SpiritualEgyptTours.com and Rhonnda Fritz act only as an agent for the Tour Operator(s). The various hotels, airlines, bus companies, railroads, ship lines, and sightseeing companies are called Travel Suppliers. They are independent agents who supply the accommodation, transportation, and other services described in this brochure. All coupons, exchange orders, receipts, contracts, tickets, etc. are subject to the terms and conditions specified by the Suppliers. Acceptance of Jean Sheehan, Millenium Education, Absolute Empowerment, The Coaching Muse and SpiritualEgyptTours.com travel program, issue of coupons, receipts etc acknowledges that Jean Sheehan, Millenium Education, The Coaching Muse and SpiritualEgyptTours.com and the travelling member are subject to any and all tariffs, terms and conditions under which any such Travel Suppliers, their owners or contractors or any persons in their employ may have established.
By utilizing the service of the Suppliers you agree that neither Jean Sheehan, Millenium Education, Absolute Empowerment, The Coaching Muse and SpiritualEgyptTours.com nor any of their agents or employees shall be liable for any delay or change in flight or itinerary schedule, strikes, loss, damage, or injury to your property or person or that of those travelling with you including death caused by reason of others' negligence, wrongful or intentional acts, acts of God, terrorist acts, governmental or political actions, civil unrest or hostilities, fires, thefts, pilferage, epidemics, quarantine, medical or customs regulations, accidents not withstanding any travel advisories or warnings, or for defects of equipment of any Travel Supplier, for any expense or inconvenience caused by late arrivals of any conveyances of such Travel Suppliers or any changes of schedules, conveyances or accommodation determined by any Tour Operator, or for any cancellation or disruption of any such services provided by any such Travel Suppliers; or for any failure on the part of any such Tour Operator or Travel Supplier to perform by reason of financial difficulty or default, suspension of operation, or other reason; or for any refunds for Tour Operator or Travel Supplier, or not paid over by Jean Sheehan, Millenium Education, Absolute Empowerment, The Coaching Muse and SpiritualEgyptTours.com to any such Tour Operator or Travel Supplier.
Jean Sheehan, Millenium Education, Absolute Empowerment, The Coaching Muse and SpiritualEgyptTours.com nor any of their associates, agents, or employees shall be financially responsible to any tour member in the event of cancellation of all or part of any tour due to acts of war, nature, governmental action; civil unrest or hostilities, or acts of terrorism, or for the default of any Tour Operator or Travel Supplier, or for any reason beyond control of Jean Sheehan, Millenium Education, Absolute Empowerment, The Coaching Muse and SpiritualEgyptTours.com.
Travel Supplier(s)/Tour Operator(s) provide the travel services identified with this travel program, and the travel program member agrees to look solely to such Travel Supplier(s)/Tour Operator(s) for the provision to such travel services; the Tour Operator or Tour Director/Manager/Escort shall have the right to decline to accept or to retain any person as a travel program member should such travel program member's health, mental condition, physical infirmity or general deportment impede the operation of the travel program or the rights, welfare, or enjoyment of other travel program members, and no refund can be given in such cases. The right is reserved to substitute tours or alter itineraries, and either the Tour Operator or Jean Sheehan, Millenium Education, Absolute Empowerment, The Coaching Muse and SpiritualEgyptTours.com shall have the right to cancel any travel program prior to departure or to increase prices where the costs shall rise.
Jean Sheehan, Millenium Education, Absolute Empowerment, The Coaching Muse and SpiritualEgyptTours.com are not responsible for any refunds should a presenter advertised as attending or leading a tour or conference cancel for any reason whatsoever. Jean Sheehan, Millenium Education, Absolute Empowerment, The Coaching Muse and SpiritualEgyptTours.com are not responsible for any physical, mental, emotional, or other reaction, trauma, or ailment during the trip or occurring afterwards, that participants may experience at the sites or from any leaders, workshops, or sessions of any kind, including private sessions with presenters. Attendance on the trip indicates acceptance of this and all other provisions of this responsibility clause.
Jean Sheehan, Millenium Education, Absolute Empowerent, The Coaching Muse and SpiritualEgyptTours.com have recommended the purchase of appropriate travel accident insurance, baggage insurance, tour operation carrier default protection insurance, and trip cancellation insurance, and has made available explanatory information and policies, and the travel program member has had the opportunity to purchase such insurance as protection against certain risks of travel to the planned destination. Travel program members are advised that travel insurance covers only what is included as stated as covered in the travel insurance brochure you receive from your personal agent.
Jean Sheehan, Millenium Education, Absolute Empowerment, The Coaching Muse and SpiritualEgyptTours.com nor the airlines or transportation companies concerned are to be held responsible for the late arrival of passengers at airports or resorts due to inclement weather, nor are they to be held liable for payment of, or any refund for, transfers or unused hotel accommodations or meals occasioned by such late arrival at the hotels holding rooms as confirmed itineraries. The airlines or transportation companies concerned are not to be held responsible any acts, omissions or events during the time passengers are not on board their planes or conveyances. The passenger contract in use by the carriers concerned, when issued, shall constitute the sole contract between the airlines or transportation companies and the purchaser of this travel program and/or passengers.
TRAVEL INFORMATION AND FREQUENTLY ASKED QUESTIONS
Q: Is it safe to Travel in Egypt?
A: Travelling to Egypt is extremely safe.  Once you are in Egypt, the Egyptian people are warm, hospitable and genuinely delighted to interact with us. Beyond that, tourism is the mainstay of the Egyptian economy, and the security precautions the Egyptian government has put in place to protect tourists for the last five years are impressive. Despite the unrest experienced in some parts of Egypt in January and February 2011 and more recently, Egypt is opening its doors again and welcoming tourists with open arms.  The Egyptians are overwhelmingly kind, caring, considerate and genteel. Both the men and the women are totally open hearted and generous with their time, attention and concern and they have incredibly huge hearts and have a fabulous sense of humour!
Quest Travel, our tour operators in Egypt, takes the security of their guests very seriously and has been doing so for over 25 years. The Media has had a field day exploiting the vulnerable aspects of political Egypt and the world has effectively placed an economic embargo on Egypt making it very hard for Egyptians with tourism numbers having dropped by 97%. A huge sector of the community relies in some way on tourism for their income whether directly or indirectly.  As a result, millions of Egyptians have been experiencing extreme poverty.  Currently there is no welfare system in place, so the people have to survive as best they can.    Bringing people back to Egypt is vital to get things back to normal as quickly as possible.  Egypt is the centre of the planet and is the energy centre so we owe it to ourselves to help this area recover because once they do the energy will spread around the planet bringing us back to a better place.
I've been often asked about the political situation in Egypt.  For me, there was a vast difference between Egypt post Revolution V1.0 and Egypt post-revolution v2.0. Post Revolution 1 in 2011 change was dramatic and not in a good way for the people but it moved the status quo from where it had been for decades. The Egyptians now refer to period as "The Gap". Now post Revolution 2 everyone feels as though they are finally moving in the right direction. Small businesses are popping up all over the place which is going to be good for employment and business people are doing everything they can to get the economy growing and opportunities happening.  The majority of Egyptians are behind their elected leader El Sisi, and the majority want to work together to help lift the country up to what it was back before Mubarak and leaders like him came to power.  There is a lot of new construction, lots of development and a positive and optimistic vibe throughout the country. I love being there because despite everything they have gone through they have this enormous hope and belief in the future and it is infectious – you can't help but be affected by it.
If seeing Egypt has always been your dream, this is a good time to turn the dream into reality.
Q: Can cameras and video equipment be used at all sites?
A: Cameras can be used at most sites without charge. However, both regular and video cameras cannot be used in the museum or at the Valley of the Kings. Arrangements have been put in place to keep them safe while you are visiting these sites.  There may be sites where you may have to pay a very small fee to use your camera.
Q: Is there internet access in Egypt?
A: Egypt is a progressive country and internet is available in most of the hotels and cruise boats we use.  There are also internet cafes.  Mobile internet devices can also be purchased from various retail outlets.
Q: Will I require vaccinations before travelling to Egypt and what if I get sick while I am there?
A: Generally you don't require vaccinations prior to going to Egypt however it is a good idea to check with your local GP.  Hepatitus and Tetanus are usually recommended by Travel Doctors particularly if you travel to Egypt during the hot Summer months when mosquitos are a problem particularly along the Nile River.  Yu will be travelling in Autumn so this should not be an issue.
You may experience an attack of "Pharaohs's Revenge".    It usually happens to somebody in the group and it usually takes a day or two to pass.  We always have medication available for severe cases but usually it is more inconvenient rather than debilitating because reliable clean toilets are hard to come by at some of the sites.  Quite often it is caused by an overload of energy in your system and your body goes into cleanse mode.   All the sites we visit have been built according to strict geometry to create certain effects so it is understandable that our DNA reacts accordingly when we are in these sites because even after thousands of years the energy is still very evident.   Plus because your psyche will be wide open in these temples, things happen that you may not be aware of at the time.  The food at the hotels is excellent and we only go to reputable local restaurants if we dine outside of the 5 star hotels we stay in.  We recommend people drink only commercial bottled water and to drink a lot of the local hibiscus tea which is extremely good for the body.
Q:  Are ATMs available and are credit cards widely accepted?
A: Credit cards are widely accepted in major shops but you will need to use cash in any markets we visit.  ATMs are available but not always easy to find.   There are banks in the hotels we stay in where you can exchange money.  Eftpos machines are becoming more readily available throughout Egypt but connections to the bank can be somewhat inconsistent and are notorious for losing the comms link to the bank so I recommend that you use cash rather than relying on the ATM machines and Eftpos machines at this stage.  Hopefully this will change in the future.   There is nothing worse than finding that must have item and not being able to get it because the card machine didn't work and you didn't have enough cash on you at the time.
Futher Information to Make Your Journey More Enjoyable…
Travel with an open mind. The cultural differences that you will experience are part of the adventure. You will find the Egyptian people welcoming and eager to help make your journey everything you hoped for. Embrace the exuberant quality of Egyptian life, smile and relax, and soon you will feel comfortable and at home as you move through our magical mystery tour.
International Travel Separate to the Group: If your international travel is not booked with the group, we can arrange for you to be picked up and delivered to your hotel, and back for your return. Our transfer agent will greet you, affix your visa to your passport, and assist you through customs and with your bags. We can also arrange for extra days at our hotel at either end of the tour. Please let us know in plenty of time if you wish longer accommodation, as our hotels are often booked to capacity.  You will also need to arrange your entry Visa to Egypt prior to departure from your home country.
Preparations/Precautions: Doctors and medical facilities are available in most places; however we recommend each participant bring their own personal supplies plus any medication needed. Your good health and good physical condition will enhance the experience for you as well as the group. The most common health issue is diarrhoea. Do not drink the tap water in Egypt! Drink only bottled water, and use bottled water to brush your teeth. Bottled water is readily available everywhere.   The food in Egypt is very good but it is not recommended that you eat food purchased from street vendors or some fast food outlets.
Climate/Clothing: The climate in Egypt is dry year around. In November, the temperatures can still be warm but the evenings can get quite cool, especially on the river, and you will need a wrap at night. Occasionally it is cool in Cairo as well.
Whatever the activity, women should remember that Egypt remains a conservative country and we wish to be respectful. Shoulders should always be covered outside the hotels and boat (there are beautiful shawls and scarves available everywhere in Egypt). Keeping this in mind, pack comfortable, loose-fitting clothing for layers in the daytime. A light jacket or sweater for early morning and evening and also for the air conditioning in the hotels is advised. Wear comfortable walking shoes because you will be doing a lot of walking. Pants are certainly acceptable for the women and are definitely recommended for camel or horseback riding. However, toilet facilities at some of the sites are very basic and women may be better wearing skirts at these sites.   In the evenings, as everyone will be dining in very pleasant surroundings at our hotels or local restaurants, somewhat nicer attire would be appropriate. Casual is acceptable, though you might plan for one or two dress up evenings. We certainly have opportunities here to be festive, and we will have a chance to shop where wonderful, fun clothing can be purchased. Remember to wear a hat as there is very little shade covering.
Baggage:  We choose to fly Emirates because the connections into Egypt are better than other airlines plus they are an extremely good airline and they offer more seat room in economy.   The flight to Egypt is a long one so it is best to fly in comfort.  Emirates has a 30 kilo maximum when travelling from Australia in Economy class.  We highly suggest that you only bring one piece of luggage with you to Egypt and bring or buy an empty bag for shopping goodies for your return. We highly recommend that you pack light. Remember to bring an extra set of clothes and your valuables in your carry-on just in case! A daypack is often useful. Although you will never be required to carry your luggage, you will appreciate travelling light particularly on the return journey when we can guarantee you will have more to take home with you than you arrived with!
Communications: Most of our hotels have business centres, and some now have data port connections for computers in the rooms. You can hook up your laptop directly to the phone if you have an ISP service that has an access number in Cairo. There are some internet cafes available in Luxor and Aswan. International telephone calls from Egypt are easy to make, and can be dialled directly from most of our hotel rooms. Calling from Egypt particularly from your hotel room is very expensive so we recommend that you get an international calling card for your mobile phone.  There are a number of economical providers in the marketplace.   You will be given a list of hotel numbers where you will be staying prior to your departure.
Photography: Remember to bring extra batteries and memory cards for your camera equipment as these can be very expensive in Egypt and not particularly easy to locate. Don't forget your detachable flash and extra batteries. This, along with your wide-angle lens, will produce the best results when photographing inside temples, pyramids and tombs. Since electric current in Egypt is 220 volts, special adapters and plugs will be needed for rechargeable units. There is very limited access to download your images while you are in Egypt unless you bring your own computer.
Money & Currency Exchange: You will have no difficulty exchanging U.S. dollars or Aussie dollars into Egyptian pounds. Many banks in Egyptian hotels are open around the clock.  Traveller's cheques are more of a hassle because you are required to show your passport in order to cash them, and many shops will not accept them. Hotels and some larger shops will take VISA (not as many take MasterCard). ATM's are not always convenient, although they can be found. It is recommended that you carry your cash in large denominations, although some smaller denominations can be convenient, as well. A money belt or other safe, secure means of carrying money and documents is advisable. Once currency is exchanged, it helps to carry many five pound notes and 1 pound coins for gifting, tipping and for rest rooms.  As at Nov 2014 there were 6 Egyptian Pounds to the Australian Dollar.